LGMS To Host US Navy Sea Chanters April 25
7 months ago


The

US NAVY SEA CHANTERS
Are Coming To
Lake Geneva!


APRIL 25 - 7:00PM | FREE!



Location: Lake Geneva Middle School Gym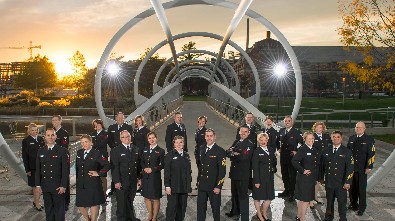 TICKETS ARE REQUIRED - SEE BELOW FOR TICKET INFO & REQUEST FORM
Brought To You By The LGMS Music Department &
WHAT: The "Sea Chanters," the official chorus of the United States Navy will present a free concert at the Lake Geneva Middle School (LGMS). Tickets are required. We are pleased to be the only Wisconsin stop on the Sea Chanters national tour this year! The 20-voice chorus, accompanied by a three-piece Navy Band rhythm section, will perform a variety of styles ranging from patriotic selections to Broadway showstoppers.
WHEN: Tuesday, April 25 at 7:00 p.m. Doors open at 6:30 p.m. Ticket holders are requested to be seated by 6:45 p.m. Any unclaimed seats will be available to non-ticket holders 15 minutes prior to concert time.
WHERE: Lake Geneva Middle School Gym - 600 Bloomfield Rd. in Lake Geneva, WI
COST: FREE, but tickets are required
TICKET INFORMATION: A limited number are available on a first come, first served basis in the LGMS main office, or by mailing a self-address, stamped envelope along with this TICKET REQUEST FORM to:
Lake Geneva Middle School - Sea Chanters
600 Bloomfield Road
QUESTIONS? Please contact LGMS Band Director Amanda Krause at 262-348-1000, ext. 3327.
Lake Geneva Schools is honored to host this world-renowned group of musicians and provide our students and community the opportunity to participate in this patriotic and cultural event.
To learn more about our fine Lake Geneva Schools music programs, click here.
To learn more about the US Navy Sea Chanters, click here. Watch them in action below.